The premise of a new year always entails a fresh start, a new perspective, a new you. This can be a lot of pressure! What if you're exhausted and can't possibly fit another thing on your list? What if you're pretty content with how things are? What if there's still an ongoing pandemic that makes your planning a bit complicated?
I recently discovered a list of things that I wanted to accomplish in 2020. This was, of course, prior to COVID being in our vocabulary, so I had things like "go on a real vacation" and "meet 10 new people" on my list. I couldn't help but laugh when I read some of those ideas, as there was no way I could have accomplished those goals, thanks to the pandemic. On one hand, it felt like I was relieved from the pressure to do all those things, and on the other hand, it made me kind of bummed out. How are we supposed to better ourselves, improve ourselves, if we're being limited of our own capabilities?
I sat down the other day to make a list similar to the one above, as I was thinking about the year ahead and imagining what I might encounter in 2022. Since we're all somewhat used to the pandemic and this "new normal," I know now that my list will have to consider the impact of COVID. While I'm not back in the office on a full-time basis, I know that I can go in a few days a week if I want to. While I know that riding a plane or going on a cruise is not ideal, I know that as long as I'm safe and maintain my vaccinations and testing, I can still live my life.
It's almost as if I made my list for 2022 with built-in buffers. I added in "travel," but kept it vague because no one really knows what that sector will look like in 2022. I included "more socialization" – understandably, I won't be attending any parties soon, but I want to deepen the relationships that I already have and make them more meaningful. Through ongoing therapy and processes that improve my own soul, I strive to use this increased alone time to work on myself, to be a better family member, friend, and person within my community.
COVID took a lot from us. But it's also important to remember that COVID taught us a lot, too. I'm thankful and lucky that I didn't lose a loved one to COVID, and I'm lucky that I was able to receive all 3 doses of the vaccine. I've learned to be in the moment more, and I've learned to cherish the relationships that I have. I've also listened to myself more, which has helped me understand what makes me, me. With all this in mind, I was able to create the most personalized list of goals that I've ever created. Each person's will be unique, but I wanted to share a few of my own bullets and how I plan on achieving them this next year.
Get savings account to x amount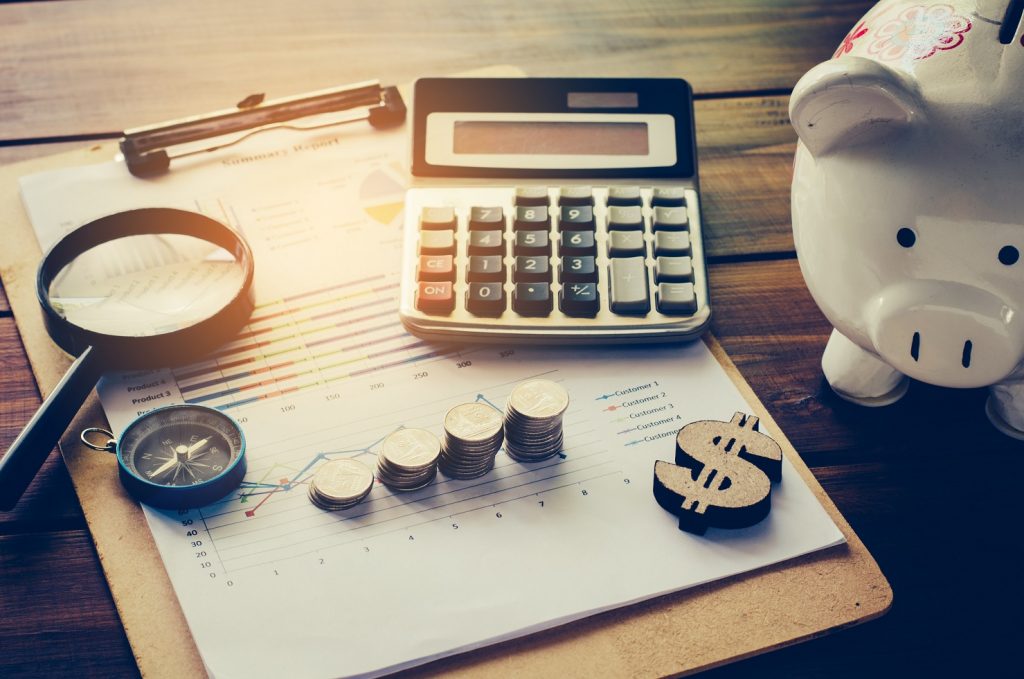 A good rule of thumb is to have 3x the amount of one month's living expenses in your savings. This can be challenging for anyone, but I'm up for the challenge. A few quick mathematical notes, and I know what I need to do to reach that goal. It also helped to break it down monthly so it's easier to grasp the logistics.
Treat myself to one solo vacation
My family lives all over the country, so I've found that the past couple of years, I use my vacation days for those family trips. Those trips are wonderful, don't get me wrong, but I promised myself that I would take myself on one trip by myself this year. It could be somewhere as close to an hour away for a weekend or to another country for a week. No matter what I decide, I want to treat MYSELF for all the hard work I've put in.
This is an interesting one, as I used to be an avid journal-er. I'd write almost every single night, and it was part of my routine. It's been at least ten years since I had a journal, and I miss the alone moments when I would reflect, vent, cry, celebrate, and collect all in one sitting. Thanks to therapy and all the alone time the past two years, I want to rebirth this habit and find some time in each day for reflection and self-learning.
---
New year, new you, right? There's something about the beginning of January that gives me a jolt of inspiration, a moment of reflection to admire how far I've come and where I'd still like to go. I'm not big on New Year's Resolutions, but I do try to make a list of things I want to accomplish in the near year. Sometimes they're big (one year I had a goal of reading 20 books), and sometimes they're small (one year I strived to build a new habit of working on my posture). No matter what you have set in store for 2022, chances are you're a little uneasy given the uncertainty of the next year, thanks to this ongoing pandemic.
Whether you're looking to work on your resolution list or simply hoping to make the most of the first month of 2022 while in the Big Apple, I'm confident that you'll find a way to make it all happen. New York City is certainly not the same place it was two years ago, but my love for the city is unwavering. I feel we're through the worst of it (I'm really hoping), so I've been testing the waters here and there to get back into the swing of things – I've been taking the subway more often, trying to get used to larger gatherings while still practicing social distancing, and I've also been working on my in-person social skills (as an awkward person to begin with, this is an area that really needs my attention in the new year!).
Either way, here are a few things you can do this January in New York City, whether you have resolutions, an interest in becoming more active, or just simply hoping to use your English skills in real life. Don't forget your winter jacket, your mask, and as always, some hand sanitizer!
1. Winter Market, Bryant Park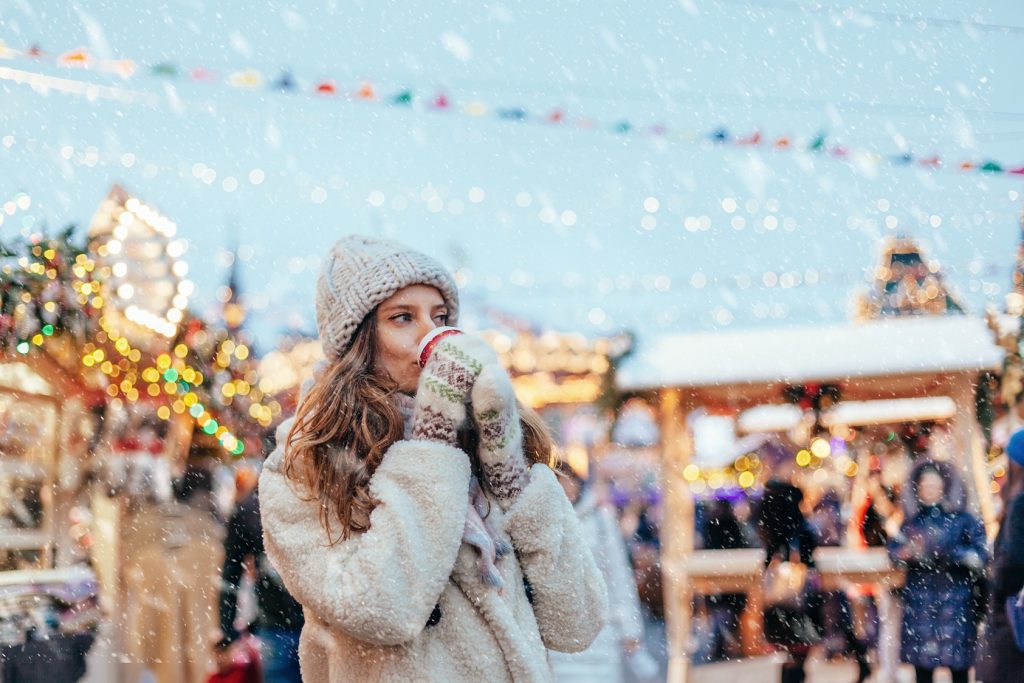 I may have written about this experience in the past, but I want to ensure that this falls on your list because it's one of the coolest winter experiences in the city. All sorts of shops and eateries gather their best inventory for window shoppers as they sip their hot chocolate and unwind from a hectic holiday season. With so many unique products and services available at this market, you'll find out about some of the coolest independent shops in the area and support small businesses at the same time. Since you'll be interacting with dozens of people as you shop around, you'll be putting your conversational skills to use, and if you choose to follow and support these businesses on your social media feeds, you'll also put your reading and writing English skills to use at the same time! You can also rest easy since this market is held outdoors, as COVID continues to remind us of its ongoing presence.
2. Brooklyn Bridge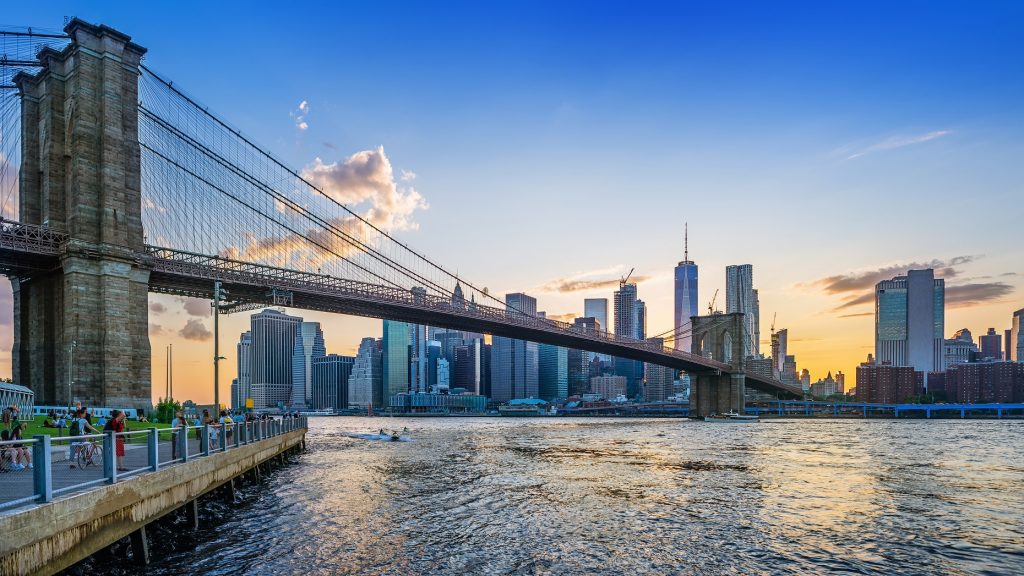 So this is a New York City staple, obviously, but I want to ensure that my guiding includes destinations that will keep you outside yet warm enough to enjoy it. Since you'll be walking a ton while visiting this spot, you'll stay warm but also safe. The view on this bridge never gets old – I've been a few times, as I bring visitors to this spot so they can see the bridge in person and experience the incredible views themselves. Not only will you get your new year exercise in, but you'll be getting fresh air and views that are indescribable. You can put your English social speaking skills to use when you ask strangers to take your photo – don't forget to offer the favor back to them in English!
3. Restaurant Week, January 18 – February 13
This is another rotating event, as restaurant week happens twice a year (and obviously lasts for more than a week). This is the perfect opportunity to give that new restaurant a try or explore something outside of your traditional visits. Not only will you benefit from reduced prices, but you'll expand your palette and add more unique cuisines to your list. The added benefit is that outdoor dining seems to continue to be popular amongst us New Yorkers, so if you prefer to eat your meals outside instead of inside (thanks, COVID), you'll be able to still benefit from this lasting feature. With written menus, spoken orders, and ongoing conversations, your English skills will be tested and easily used throughout your evening, so check out the participation list in your borough, and start making those reservations!
---