October is one of my favorite times of the year, especially in New York City. Fall is in full swing, which means I can be more comfortable in my knit sweaters, enjoy seasonal coffee beverages, and embrace the changing colors of my scenery. I just overall feel more calm and relaxed – who knew the weather could do that?? I tend to take more walks in Central Park so I can enjoy the fall foliage and take tons of pictures worthy for Instagram. Of course, one of the most popular events of the month (well, maybe even the whole season) is of course Halloween, and you won't have any trouble finding any kind of activity in relation to this holiday. Instead, I'll focus on all the other things you can do this month in New York City so you can embrace the best month on the year.
If you're willing to put your English skills to use this month, there are tons of ways you can put your learnings to practice in the real world. Interacting with others is the best way to test out what you've learned, and never forget that New York City is a huge cultural melting pot. This means don't feel intimidated or nervous to ask others for help in translating or navigating your way around. While New York City is essentially a blip on the map, it's still an epicenter of its own, so don't be afraid!
New York Coffee Festival, October 12-14, 2018
If you need a break from the bar scene (like I do), this is a great way to learn more about one of our most prized possessions: coffee! If you're anything like me, coffee is a necessary fuel that helps any kind of productivity and energy maintenance, and it's an interest that I'm always willing to explore. I've wanted to attend this event since moving to NYC but just haven't made it yet, but this year I'll be there! I plan on learning about more blends and coffee-making methods, and I hope to enjoy plenty of local samples. The event will also keep you entertained with tons of street food, learning demos, and live music. Bring your friends and meet new people—practice your English by asking other event-goers about their favorite brew, what they've learned, or simply strike up a conversation.
Open House New York Weekend, October 12-14, 2018
This is one of those events that is highly regarded in New York City, as it's a celebration for historic buildings, architectural legends, and new sites. It's a chance for New Yorkers that have a passion for architecture to view locations and sites that are normally shut down or off-limits for the general public. Do some research before committing to this event, as some locations require a reservation. You'll be able to practice your English social skills here, as you'll be interacting with dozens of other passionate fans of traditional and modern buildings alike, and what's even better is the organization's philanthropic effort in putting on this event, so it might be helpful to bring your checkbook.
The Accomplice, weekends in October
This event falls in the category of interactive entertainment that seems to be all the rage now. Similar to Escape the Room, this is a theatrical experience that will take you about all parts of New York City, depending on where you'd like to explore. There are tons of options available, as you can go on scavenger hunts with friends and simultaneously see parts of the city that you have never explored before. While this event can be on the pricier side, the whole experience lasts a little over 3 hours, and the reviews prove that it's worth every penny. You can practice your English comprehension by interacting with the improv actors and meeting other excited event-goers. Before you know it, you'll be looking up other ticket availabilities for the next show.
There are so many amazing things to do in New York City, and October is one of the best (and last of the year) to enjoy all kinds of activities outdoors. You can watch the leaves change color, feel comfortable with warm days and cool nights, and give your seasonal English skills some practice. Grab some of your friends and start exploring the city before it gets too cold and you start to feel the urge to hibernate!
---
No matter how long you've been with New York English Academy, your relationship with New York City is probably exciting and quite exhilarating. Not only are you getting some great education in the field of English language, but you're located in one of the greatest cultural melting pots in the world—it's like getting two educations at once! You also may be thinking ahead in terms of your next stop once your time at the Academy is complete, and perhaps you're thinking of furthering your education at one of the college campuses in New York City. Here are a few that are ranked the highest in terms of reputation, cost of tuition, and help in language studies. Since you're already here in the city, scheduling a tour or an appointment will be a breeze, so take some notes, do some independent research, and let your curiosity run wild!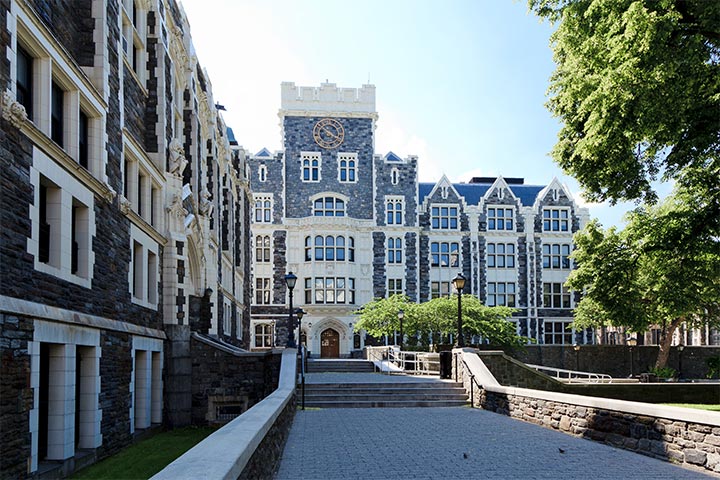 City University of New York (CUNY), all 5 boroughs
I included this campus first because not only is it the only public university system in the city, but there are over 24 CUNY campuses located in all of the 5 NYC boroughs. Depending on your academic level and area of focus, you're more than likely to find the campus that caters to your individual interests and needs. Plus, with so many locations amidst the city limits, this offers you tons of access to local resources and programs to help you with your academic journey.
The New School, East Village
If your academic focus leans towards the liberal arts (music, performance, drama), social research, or design, this is a great option for you, especially since approximately 30% of the students are international. The location in the city is also ideal if your field of focus matches the above since there is tons of artistic culture in this pocket of the city. Plus, a pretty cool bonus is there are tons of famous alum that attended The New School, so keep your eye out for some well-known faces!
New York University (NYU), Greenwich Village
This is another well-known academic institution that places great focus and attention to international studies. With quite a few branch campuses beyond the US borders, NYU also has an impressive study abroad program and a strong international student population. Again, depending on your area of study, you'll more than likely be able to find a program that fits for you. While the main campus is around Washington Square in Manhattan, there are a few other locations within the city limits.
Columbia University, Upper West Side
Just like NYU, you're probably already aware of this institution due to its huge presence within not only New York City, but within the higher academic community overall. While this university is considered Ivy League, don't let that intimidate you from checking it out to see what it has to offer to you. I included this campus because Columbia has the third-largest international student population of any US university—that's 35% of its students coming from other countries. While so many of the New York City college campuses focus on the liberal arts, Columbia offers the full subject curriculum, so you're sure to find your area of study no matter what.
Stevens Institute of Technology (SIT), Hoboken, NJ
Even though this campus is technically not in NYC, I wanted to include SIT because it's a great university for those with an engineering, science, or technology concentration. With easy access to (and great views of) Manhattan, you can attend this university while still getting a genuine New York City experience. If you're undeclared, this is still a great institution, as it also offers degrees in the arts and humanities, so be sure to keep this campus in mind if you're making your rounds. BONUS: living in New Jersey can save you tons of money for living and general expenses, so keep that in mind while taking your tours.
Considering where you may want to study when your time at New York English Academy is complete is a lot to think about, so be sure to do tons of research on program availability, financial aid and scholarships, as well as international programs if you consider another country home. Now that you're pretty familiar with New York City, you should feel confident in exploring all the amazing campuses that the Big Apple has to offer. Why not continue your learning in one of the most culturally diverse cities in the world?
---