Our world has certainly been forced to change due to COVID-19. We now have measures in place to keep us safe from the virus, and we're practicing new processes and operations to maintain any sense of normalcy that we can. Companies have been forced to migrate their model to cater to a work-from-home capability, and delivery services have skyrocketed so people can continue to get their essentials without leaving home. We're living in a new world as we know it, and the presence of COVID-19 in our lives is going to change everything as we know it.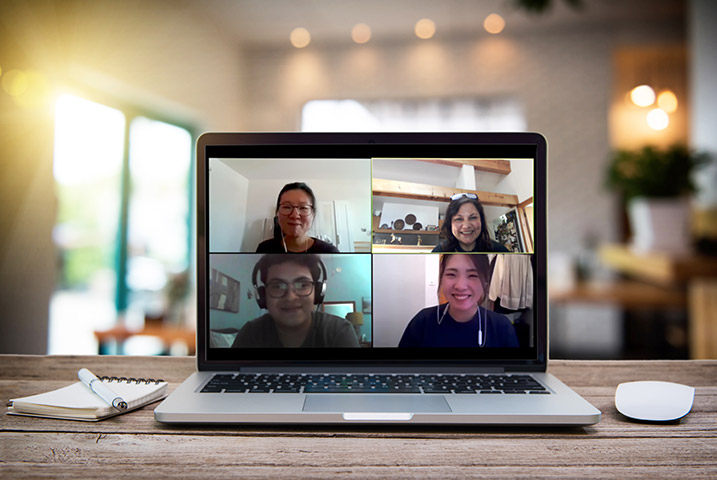 Education is a category that has been affected by COVID-19 and the way in which students and instructors interact and engage with one another. Since the in-person model is no longer an option, digital and virtual capabilities are now being used to share lessons and incorporate learning behaviors. It's entirely different, especially for the systems that hadn't been using virtual options before. But now, across the world, students are "logging into" their classrooms and finding new ways to learn and adapt, and teachers are adapting their lesson plans to fit a virtual mold.
Whether you're new to the New York English Academy or if you've been a student for some time, you're probably wondering how these new circumstances have affected the curriculum and the learning structure. Luckily, similar to other institutions, the school has adapted quickly to fit this new way of life so students and teachers alike can continue their original goal of teaching and learning English in an adaptable environment. Here are a few ways and strategies that the new classroom experience integrates into the daily structure.
Attendance and participation
At first thought, it might be difficult to imagine a virtual setting and having the ability to monitor attendance as well as productivity levels. Since technology products like Zoom have proven to be an effective platform for interaction, New York English Academy have joined the ranks of other top educational institutions when it comes to virtual learning. Instructors can visually check attendance by seeing who is present at the start of the class, and with additional features within the platform, like chat and breakout rooms, instructors can then monitor participation and engagement there.
Student-teacher communication
We've lost the ability and luxury of in-person conversations, whether it's formally during class or casually in passing throughout the campus. This kind of interaction is surely a benefit to in-person learning, but as we adapt to the new world and have to rely on virtual learning until further notice, there are ways that our virtual capabilities can still be beneficial for learning. New York English Academy supports a wealth of communication strategies in addition to Zoom; instructors can make themselves available through one-on-one video chat or phone calls, email supports 24/7 outreach, other vetted messaging apps, and Schoology – which will helps support students and teachers within the system for lesson planning, sharing documents, and connecting with one another. Even though this new world may not be ideal for the full experience of communication, our technology certainly allows us many other ways for connection and continued learning.
Student-student communication
A benefit of any kind of academic setting is the opportunity to engage with other students. Sharing ideas, providing feedback and constructive criticism, and refining social skills have always been true values of learning with other like-minded students. Again, missing out on the in-person value of this can be difficult, but with all the available tools listed above, students can utilize a multitude of resources to connect with each other. Plus, since students don't need to worry about the appropriate boundaries between a student and a teacher, they can find each other on social media platforms and operate as social classmates, too.
Being in a physical classroom allows for various ways of teaching, through lecture, shared technology features, or the classic whiteboard/chalkboard capabilities. Physical handouts and sheets are unfortunately no longer an option, but again, our digital and virtual options certainly allow for valid substitutions for these. Zoom has a whiteboard function so that instructors can continue their lesson distribution, and students can continue to take notes and emulate the main ideas into their own notebooks. Zoom also has the screen-sharing capability so that participants in the class can see in real-time the same content as everyone else in real-time. With the cloud platform, students can also share materials with one another and collaborate in those same materials at the same time, which can actually increase productivity and help streamline projects and learning curves.
Physically traveling to campus and attending classes in-person might seem like a thing of the past already, as by now, many of us are used to a virtual learning and productivity atmosphere. It can be difficult to imagine how the in-person experience migrates to a virtual experience, but there are so many ways in which students and instructors can engage with one another while learning the content that is designed for the class. With scheduled video conferences, instructors can engage in valuable facetime with the students via lecture or engaged conversation. This is the opportunity for students to ask questions directly to the instructor while the other students are present, and it allows for the opportunity of an open discussion. There is also independent work, similar to what was expected out of physical classroom learning – this is the work that students must do in their own time, applying what they learned during class in their own practice. In addition, there is also the option for students to work with one another in small groups or one-on-one, which enhances the learning process while encouraging practice of the spoken English phase of the program.
Assignments and homework structure
This is another area in which digital and virtual learning can benefit for students. Just like in a physical setting, New York English Academy expects its students to do work outside of the class in their own time. This tests their ability to apply their learnings into independent thinking, as if it were a test to see how well they comprehend the lessons. Depending on the structure of each class, it's typical that students are assigned a weekly writing assignment, which helps determine the level of understanding of the written English language. In addition to a written piece, there is also a weekly speaking assignment to determine the level of comprehension of the spoken English language, which can be done over Zoom or even phone calls if need be. Depending on the class and how far along the student is in the program, this structure might change, but typically, the New York English Academy works to deliberately make the virtual experience as similar to the physical version as possible.
Testing and examination structure
It may be difficult to think about how students are going to be tested without an in-person atmosphere, but surprisingly enough, there are a multitude of ways that students can be tested on their learnings and comprehension. In this new world, it might be stressful to think about all these changes in addition to the natural stress that may come with testing, but malleability and flexibility is a skill that all adults require, so students can think about this as a method of adapting to life adjustments as well. In today's world, there are many platforms that support private testing options so that instructors can guarantee students are adhering to testing policy while also maintaining their security and privacy. Since New York English Academy also assesses all aspects of English learning, testing also includes verbal, reading, listening, and writing English, which means that Zoom conferences with the instructor can satisfy many of these requirements, and with the cloud platform and screensharing, instructors can monitor that testing is done honestly and fairly.
Administrative capabilities
Instructor and teacher communication can be done easily and honestly with today's digital and virtual capabilities, and while this atmosphere may not be ideal for everyone, it still supports the ability to complete the program and advance to higher learning. For additional communication with other departments beyond teachers, students can also interact with other members of the institution, like financial aid, admissions, and others in a digital or virtual fashion. This ability to access communication to other key players in a student's progression means that students won't have to worry about any delay in processing or movement throughout the program beyond the classroom. We're all in a very odd and uncertain time right now, and safety and health should be the most important factors of all citizens. If you're practicing physical distancing but want to continue the progression of your education, New York English Academy has adapted quickly and accordingly so that current and prospective students alike won't have to worry about any kind of progression for their educational or professional future. You can rest assured that your studies will go on as scheduled, and you'll be able to pursue your goals, even in the middle of a pandemic.
---