Listen, I'm going to give it to you straight. January in New York City can be pretty tough. The magic of the holidays is over, and things tend to just go back to normal, which can be kind of sad. On top of that, the weather can be cold and dreary, and I always tend to get sick this month. Snow is no longer fun and beautiful – now it just means that my commute is going to be annoying. In essence, January in New York City is a drag. But, to cheer you up and make sure you don't fall into this funk, I've come up with a few ideas that will keep you entertained for this month.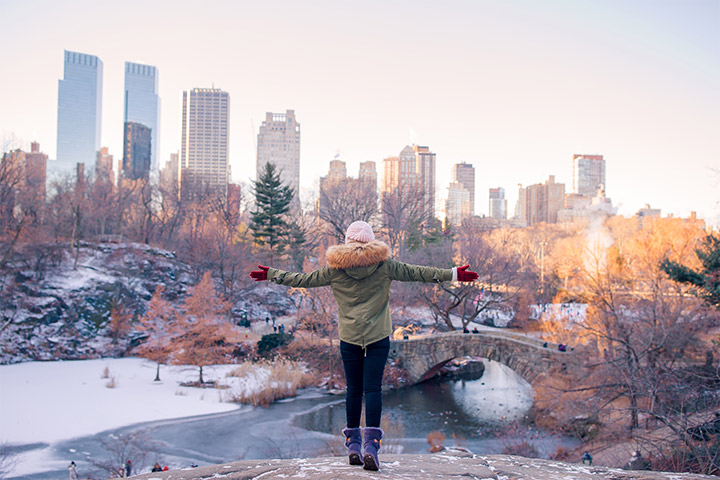 One of the great aspects of this list is that all of these activities have opportunities for you to put your English skills to use outside of the classroom. By now, you know that living in New York City means you're around people all the time. This gives you plenty of chances to interact with all those other people that come from all over the world—just like you! New York City is nothing but a giant melting pot of other cultures, so take advantage of being around such great diversity and put your skills to real-life practice!
Coney Island Polar Bear Club New Year's Day Swim; Coney Island Boardwalk; January
Believe it or not, hundreds of people come all the way down to the Coney Island Boardwalk to either watch people plunge into the ocean on New Year's Day or participate in it themselves. Since it's a movement that's fueled by charity, dozens of people truly take the challenge seriously. If you're willing to stand in freezing temperatures to watch this event, it might be worth it to cough up a few dollars for a good cause: Camp Sunshine, a charity that supports children and their families with life-threatening diseases. It's surely a great way to nurse your New Year's celebration hangover and gives you some fresh air. For your English practice, come prepared with your best, "People are crazy!" and you'll be sure to have a few people in agreement with you! And hey, maybe you'll summon the courage to participate next year!
A Night at the Museum; Museum of Natural History; January 4 and January 25
If you haven't gotten around to seeing the movie, Night at the Museum, be sure to catch it before the Museum of Natural History hosts its sleepover! While this event can satisfy kids and adults alike, it's an experience that only New York City can entertain. With plenty of snacks and entertainment and tours throughout the museum, you can really feel like you were part of the movie. (And hey, watching the movie gives you plenty of English practice, too!) Plus, the museum itself is a great place to practice your English reading and speaking skills; with plenty of information to absorb, you can learn tons of cool stuff just by being around other people. So make sure your translation app is up-to-date so you can feel prepared to ask plenty of questions without missing any details.
Broadway Week; Broadway; January 21 until February 10
Seeing a live Broadway show is an amazing experience, but the downside is that seeing these shows can often be quite an expensive activity. So that's why I wanted to highlight this really awesome time of the year for New York City. During this brief period of time, you can get two-for-one tickets to select shows. Get your friends together and start discussing (in English, of course!) which shows you'd all be interested in seeing. From there, do some research on timing and theatres to find the best deal for you, as you'll of course have plenty of options! And naturally, there's no better way to put your English listening skills to practice than watching and listening to a live show in English!
Don't get me wrong: I love living in New York City—it's just that January can be a little rough with the cold weather and the dreary days. Hopefully these activities will not only keep you entertained, but they'll also keep you in love with the Big Apple, too. Don't forget to keep practicing your English, even during one of the coldest months of the year – don't let your skills get too "frosty!"
---